Hundreds of well-wishers attended the retirement party for Pam Jarboe on Aug 16, 2019. She will leave Topflight Grain at the end of August after a 39-year career with the company, going back to when it was Bement Grain.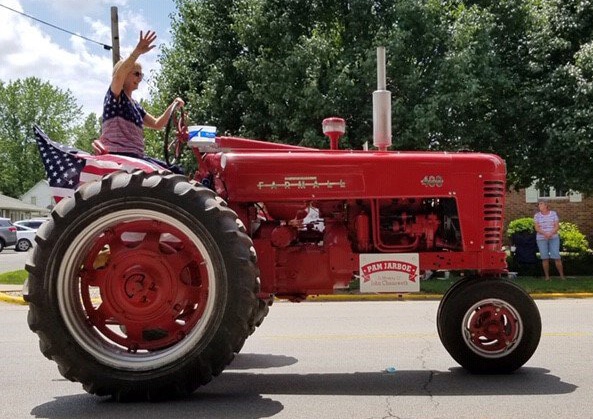 If you were a customer, employee, or vendor, you probably encountered the friendly face and voice of Pam Jarboe on the phone, over the counter, or at the scale window. She served in many capacities over the years including Assistant Manager and coordinator of the beloved annual Women's Programs.
Many dozens of children in the Bement school district remember Pam for the outings to Curtis Orchard, the Decatur Airport, Bement Bowl and other exciting activities that Pam and her colleagues organized for the adopted 2nd Grade Class.
She was also known for her famous clown costume in local parades, as a wrangler of youngsters for the Kids Tractor Pulls during town celebrations, and for riding her restored International Farmall 400 tractor in honor of her father, John Chenoweth, in 4th of July parades. Her many batches of home-baked chocolate chip cookies will never be forgotten nor will her cheery smile, humor, and wit.
Customers, co-workers past and present, and many local friends will miss Pam and wish her well in retirement.
Pam and Vanessa
Pam and Scott
Gloria, Scott, and Vanessa
Dick, Pam, and Scott
Chelsey, Vanessa, and Amy